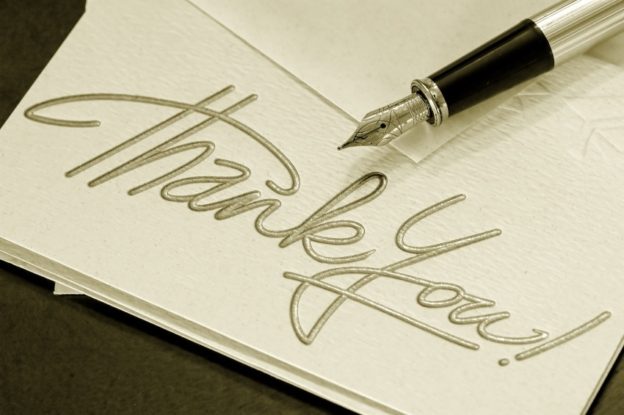 Meeting Nancy Byerly Jones, retaining her services and listening to her advice, has helped to transform my law practice.
I have been practicing law for 30 years but realized that some of my practices were becoming antiquated and I needed to freshen up my processes and needed a sounding board to make those decisions. Nancy came into my law firm, interviewed my staff, listened to me, and was giving vitally important advice on day one. I didn't always like to hear it – but I needed to.
Over the next two years, I effectively cut overhead, and implemented a variety of internal law firm practices. Over time, I became more productive, efficient, and profitable, but more importantly, Nancy Jones lowered the stress of law practice.
I now consult Nancy for one hour twice a month and have found those sessions to be important to institutionalize the necessary change.
Nancy Byerly Jones will not come into your law firm with pixie dust or a magic wand. And, she requires consistent commitment from the attorney – her model is definitely a collaborative one. But if you are like me and you realize that change is necessary, retaining NBJ consulting is an excellent decision.
— James Fletcher Thompson, James Fletcher Thompson LLC, www.JFTLegal.com / Summer 2019
---
This weekend I pulled out my copy of  your "Easy Self-Audits for the Busy Law Office."  It was helpful to me to review many of the sections in that in trying to think through my options.  You did the legal community a service in putting that together. I hope others haven't forgotten what a resource it can be.
I meant all I said as I am not given to false flattery. I have had your book sitting in a bookcase in front of my desk for how many years I don't know – long enough I still have the 3½ floppy disks too! It's way too easy to get caught up in the day to day bustle and lose sight of the bigger picture, and publications like yours help bring perspective.
— Joe Holland, Holland & Anderson, LLP, January 7, 2013
---
"It has been my pleasure to have Nancy speak two years in a row at our Law Practice Management Institute. In addition to receiving excellent reviews from our audience, Nancy is simply a pleasure to have as a speaker. I look forward to having the opportunity to work together again in the future."
— Jennifer Ellis, Associate Director of Media Technologies, Pennsylvania Bar Institute, April 2010
---
Although we have never met, over the years I have avidly read and learned a lot from Nancy Byerly Jones. She has written some great articles and created some awesome resources on risk management and claims prevention.
— Dan Pennington, November 26, 2009, "The Busy Lawyer's Guide to Success" Blog Post
---
Nancy offers timely, practical advice for your legal practice. Great resource of information
— Tweet Post by Scott F. Gibson, Attorney, Gibson, Ferrin & Riggs, PLLC, Mesa Arizona
---
See Rossipsa Blog posting July 31, 2008 regarding NBJ's work and her July 2008 Lawyers USA column
— Ross Kodner, President & Founder of MicroLaw, Inc./Attorney and widely sought after national technology speaker
---
"…I wanted to let you know that the ____ [client name omitted to protect confidentiality] finally got their separation agreement signed. It is always a pleasure to help out someone who has mediated through you.  The quality of the mediated settlement really stands out."
— Andrea N. Capua, The Law Firm of diSanti, Watson, Capua & Wilson, Boone, NC, February 2008
---
"You are a trusted advisor and a dear friend. Thanks for your support."
— Senior Partner of Client Firm of Nancy Byerly Jones & Associates, Inc., January 2008
---
"…It's obvious that your dedication goes far beyond a paid speaking engagement.  It was wonderful to have you here [Iowa Bar Solo & Small Firm Conference/Fall 2006] and I have heard nothing but positive comments.
— Joe Holland, Holland & Anderson, LLP, Iowa City, IA, Past President Iowa Bar Association
---
"Once again, we feel re-energized for another year ahead and motivated to finally make some overdue and greatly needed changes!"
— NC Law Firm Managing Partner, Fall 2004
---
"The entire staff appreciates hiring of a consultant who understands the value of staff and who worked with us in such a respectful and productive manner."
— NC Law Office Legal Assistant, Winter 2005
---
"…. We are looking forward to our annual two days with Nancy. She has been there for us for over 12 years whenever anyone of us needed her advice or coaching."
— Partner, 6 lawyer office, May 2005
---
"Nancy…I would be happy to recommend you to anyone. Don't hesitate to use me as a reference. I've heard everybody from Hildebrant to Altman Weil and you do the best job of anyone."
— Emery Barker, Partner/Mesch, Clark & Rothschild/Tuscon, Arizona / Presidential Awards Program Presented by Nancy Byerly Jones for the Arizona State Bar/June 2000
---
"Do Nancy Byerly Jones & Associates' retreats work? The results through the years speak for themselves…by identifying all of our issues and working through them, we have more time and energy to practice law."
(Jeffrey Keeter, Attorney, Block, Keeter & Crouch, Wilmington, NC Nov. 2000)
---
"Working with Nancy Byerly Jones & Associates offered us a non-threatening approach to working with a serious problem. My office staff loved the beauty of the seminar location. We were put at ease and got a lot of much needed preventative maintenance done."
— A. Kirby, Attorney, June 2000
---
"I hired Nancy Byerly Jones & Associates, Inc. because I wanted to practice law in a more revolutionary way."
— L. McCarl, Oct. 2000 & 2009
---
"Your service far surpassed my expectations…It was the best and probably the most important experience of my professional life! …About your book — Easy Self-Audits for the Busy Law Office — Every lawyer would benefit from just reading this book. If lawyers were to complete the audits and honestly answer each and every question, the book would change their lives. Bluntly put, it should be required reading — yearly. Every lawyer should have at least one copy, one thoroughly used copy!"
— D. Godwin, Attorney, October, 1999 & 2010
---
2009 UPDATE: Easy Self-Audits for the Busy Law Office is still a very popular, low cost and extremely useful law office management resource and "tool."  Even after 10 years since its original publication, the quick reading and helpful book continues to be purchased by law firms nationwide via the ABA.  To find out more about NBJ's self-audit conference call service plan or to request NBJ's newest self-audits and/or updated individual copies of the book's self-audits, contact Nancy via email:  ([email protected])
---
"Your retreat presentation was excellent and we all had a great time. Thanks for delivering what was promised and much, much more!"
— S. Martin, Attorney, Sept. 2000
---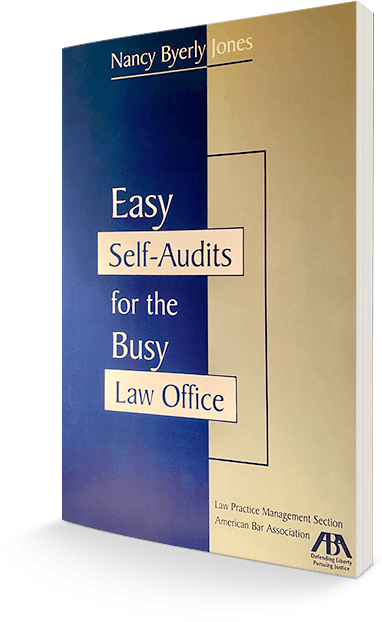 "…[Easy Self-Audits…] one of the most valuable books I have read in 20 years on practice management"
— J. Bennett, Attorney, District of Columbia Bar Association Book Review August-September 1999