When it comes to client servicing, we should always be looking for creative and helpful resources to offer our clients at no additional charge. These Client Extras should be outside of their legal services. Many family lawyers, for example, offer their clients a list of resources that may include financial advisers, family counselors, stress management and life coaches along with many more community services, events and opportunities.
Real estate attorneys may offer their clients more than just copies of the multitude of closing documents. Their clients may leave their closings with "new address" note cards to use in notifying others of their new residence or business location. One of my suggestions for "dirt" lawyers is to custom design the note cards with a picture of the home (or building, etc.) purchased. This is easy to do and with inexpensive software. Most clients appreciate and like things like this and are touched by the thoughtfulness behind the unexpected gift. Clients don't forget that their attorney went beyond the call of duty and shared something of value with them – and at no charge!
When was the last time you offered your clients a complimentary new "perk" or "extra?" Since pets are such an important part of so many people's lives, the checklist below (or parts of it) may be a resource you'd want to consider offering your clients regardless of your area of practice.
What Happens to Our Beloved Pets After We Die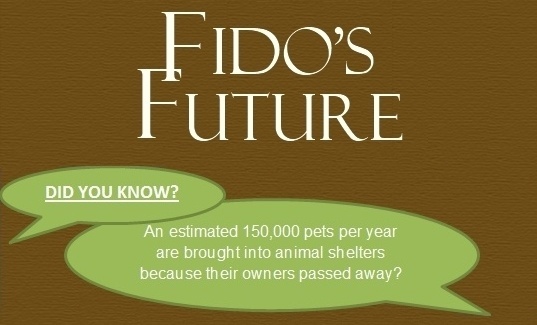 What are our options to ensure our beloved pets will be properly cared for after our death? The checklist below is not all-­‐inclusive, but hopefully will help you in deciding which path is best for you and your "other" family members:
Do nothing and let others decide what happens to your pets.
Talk your options over with a trusted family member or friend.
Put your preferences in writing and leave with your estate planning documents and/or other critical files (e.g. life insurance, health care power of attorney, etc.) and hope your wishes will indeed be followed.
Talk with an experienced (and pet loving!) attorney in this growing area of law regarding the best legal options for protecting pets after we die (last will and testament directives, trusts, financial safeguards, and so much more).
Go into the attorney meeting prepared with your questions, concerns and preferences.
Make a decision regarding what is right for you and your beloved pets.
Legalize or at least document your preferred plan in detail. Share copies and discuss your wishes and plan with appropriate family members and/or close friends.
Remember, all pet loving families must plan wisely for what happens to their entire family after their death. We can always change our minds later and update our pet directives. Doing nothing, however, is taking a huge risk that our family pets' care and quality of life after we die may be put in the wrong decision maker's hands.
Bottom line
Yes, it's uncomfortable and frightening to think of someone else caring for our precious pets. If, however, we can't be there for them, it is a huge peace of mind to know their next "chapter" has been planned lovingly and carefully by us.