MY BEEF
I get worn out by people who claim they are making decisions only because someone else wants them to do this or that (or claim that "they" made them do it in some cases)?  Now unless we are talking about a true domestic violence scenario or similar horrors (and that can sadly mean female and male victims), what are these not-so-honest-with-themselves types thinking? Do they not want to own responsibility for (and judged poorly maybe) by a decision they know others would frown upon — or are they perhaps trying to hide their true priorities (they think any way) or maybe they just hope to come across as a martyr of some sort?
I CONFESS
Ok – Ok — stop the letting off of steam for a second, Nancy! Soooo —-one reason this type of denial irritates me so much now is because I have resorted to this tactic a time or two in years past. Thank heavens, I learned early on, however, that if I really want to gain self-respect, that means being my own best friend, recognizing I ain't and can't be perfect, I can't do it all AND owning up to all choices I make – good or bad. Damn, it ain't easy acting like an adult, isn't it?!
SELF HONESTY CAN HURT FOR A BIT, BUT IT BEATS BS-ITIS
So back to my point — for those still not quite ready to fully own up to their choices and decisions just yet (and we all grow by our unique and different time tables and experiences), I suggest that you just might be trying to BS yourself and others. If we are healthy and competent then we must own up to all of our decisions – big, small and in-between- as ultimately being our decisions.  Aren't we choosing to have significant relationships and live with those who are truly at the top of our list of priorities? Don't we make room in our days for successfully doing those things that are our true priorities?  In the same vein, we cannot claim that our decisions are not our own. Of course they are even when it is painful to own them. Even when compromising with others is necessary, our final decision to agree or not to the compromise is ours alone to make.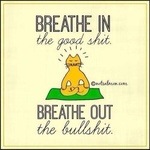 I implore all of us to empower ourselves once and for all to be brutally honest (starting with ourselves) by owning up to the fact that all the decisions we make are indeed OUR decisions! There's more than enough BS in our crazy world today without our adding to it by golly!