Sweet Potato, Black Bean & Oat Burger (THESE ARE GOOOOOOD + they hold together for flipping better than most veggie burgers which is a big plus!).  For a topping, I whip up siracha mayo. I start with just-like-"real" mayo FollowYourHeart Original Veganaise or Just Mayo – our two favorite vegan mayos. Add garlic powder and siracha sauce, stir it up and you've got a tasty topping or condiment with a bit of pop.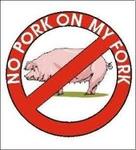 Jackfruit Barbeque with Vegan Cole Slaw (Yeah, I know – if you've never heard of jackfruit before it sounds like a super weird food (or it sure did to me!). just trust me on this one and don't drag your feet about giving it a try – you will be glad you did! Jackfruit is AMAZING and what a bonus that is beyond good for us too not to mention, it's so dang versatile.  Google it and you'll find lots of stuff out there on this native southern India and Malaysian wonder fruit. Also, you may want to check out: The Today Show Jackfruit Segment and 13 Health Benefits of Jackfruit
Lots of recipes can be found for vegan barbeque, but here's how I do it:  I heat up my empty skillet on low for a few minutes then add olive oil for few minutes before adding the onion (these pre-sauteing steps I've learned reduce the amount of stuff that sticks to the skillet which makes clean-up lots easier).  Then I saute red onion and garlic in skillet with little olive oil. Next, I add Native Forest Organic Young Jackfruit (after rinsing and draining it).
I let it heat up short while until easy to shred with a knife and fork in the skillet then I add the barbeque sauce (we love Head Country's). Let it all heat together for a bit and then serve on buns with vegan mayo, vegan cole slaw or raw spinach if no cole slaw. Even better with diced tomatoes and corn on the cob or with your favorite barbeque sides.
#3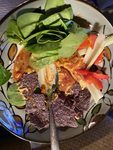 Hummus & Salsa with Raw Spinach, Carrots, Red Pepper, Celery, etc. served with no salt added Blue Corn Chips (Garden of Eatin = our favorites) or your favorite pita chip (Favorite Salsa:  Desert Pepper Corn Black Bean Red Pepper and favorite hummus if not making from scratch: Boars Head Garlic or Roasted Red pepper or Sabra's.
#4  Jackfruit "Chicken" Salad SandwichThere are LOTS of jackfruit chicken salad recipes out there so enjoy the hunt (ditto for vegan tuna salad recipes).  I added nutritional yeast to ours because it's great for us and a tasty add on to everything from this dish to popcorn (don't like its name much, but it is one great ingredient or condiment!)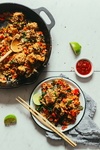 #5 Mama Muckster's This 'n That Goolash Bowl (Sauteed Tempeh, Garlic, Onion mixed with black beans sweet corn and sweet potatos served on top of brown rice or quinoa).  I whip up my own concoction, but here's a link for a non-vegan tempeh bowl – may be good for getting you started on creating the best goolash for your taste: https://www.budgetbytes.com/tempeh-burrito-bowls/
DESSERTS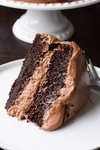 Best Ever Decadent Chocolate Cake  This one's a HUGE hit with our vegan and non-vegan family members!  If you really are lusting for a decadent dessert and you are a chocolate lover, try this one.  I promise — You do NOT have to be vegan to fall in love with this dessert!  I think I can safely guarantee that you will not be disappointed. (Note: Follow this recipe in spite of your doubts and you will have some about the applesauce and boiling water – sayyyyy whhhhaaattt?!?!)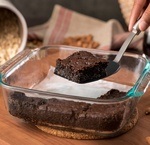 Flourless Brownies  These are so easy to make albeit takes some muscle to stir as I usually double the recipe which means more almond butter and it is thick!   Worth the extra muscle required though because these are soooooo good! A couple more tips:
(1) you definitely want to use unchilled almond butter (yes, I learned the hard way – whew!)  I now start with an unopened jar or if using an opened one from the refrigerator, I microwave it quickly to dechill just a bit before having to stir it (still a thick stir though).
(2) The recipe will sound incorrect because of the very unusual short cooking time, but it's absolutely correctly.  Since we live at a high altitude, however, I do add a couple of minutes of cooking time to ours…but beware they will burn quickly after that first 15 minutes.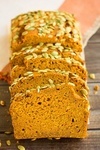 Pumpkin Bread (I added walnuts too) (Great for breakfast, dessert or whenever!) Next time I make this, I am going to try dividing the flour up equally between all purpose flour and a whole grain flour (for a bit more fiber and it's how I made pumpkin bread in my pre-vegan days). For what it's worth, this pumpkin bread does not last long around our house!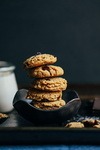 Oatmeal Chocolate Chip Cookies (I leave out the coconut) (I like to cook these a few at a time right before we're ready for a treat – warm and delicious!)
Ben & Jerry's Non-Dairy Ice Cream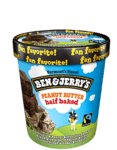 (Too good for our own good – really, but we do love it!)
So Delicious Dipped Salted Caramel Bars (Fairly low calorie count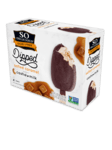 considering how dang yummy these are). They seem to disappear all too quickly so must confess, hubby and I have been known to devour two at a time.??‍♀️